What Does the 2019 Hyundai Santa Fe Have to Offer?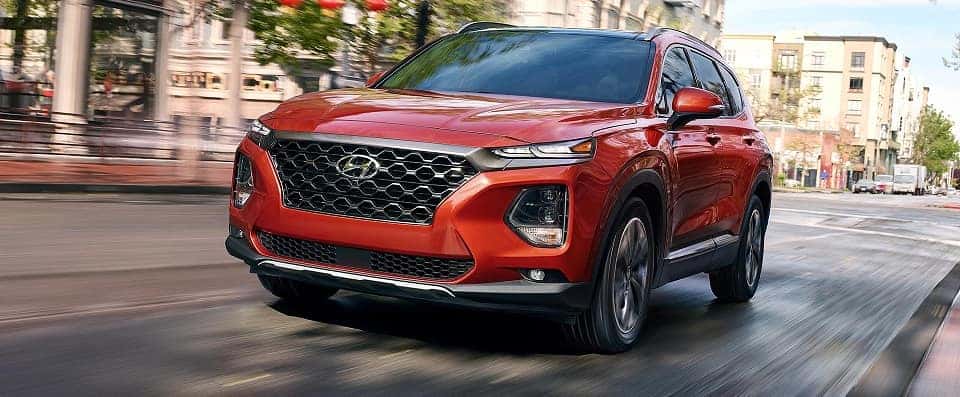 What Does the 2019 Hyundai Santa Fe Have to Offer?
Hyundai has revamped and redesigned the Santa Fe for 2019 with many improvements. Formerly known as the Santa Fe Sport, this midsize SUV has a new interior, muscular style, and improved handling. In addition, last year's Santa Fe has now become the Santa Fe XL. The 2019 Santa Fe is taller and more powerful, but there's much more to it. Here are some updates that you can expect in the 2019 Hyundai Santa Fe.
Exterior Styling
With its new design, the 2019 Santa Fe is more muscular with a dramatic design element. It has sharp looking headlights and recessed fog lamps to accentuate its styling. The vehicle also has an increased wheelbase. The signature cascading front grille highlights the vehicle's frame with a strong character. Also, there are flared wheel arches, sharper taillights, twin chrome-tipped exhaust pipes, and a silver skid plate
Interior Styling
With a transition from vertical stack design to horizontal sculpted looks, there's a lot to look forward to in the interior styling of the 2019 Santa Fe. The new design combines quality with comfort. The dashboard has a new touchscreen infotainment system along with automatic climate control and other in-car control features. Soft-touch leathers and materials are used throughout the interior. Also, there is a three-part instrument cluster and multifunctional steering wheel in the car. The top-end models have Hyundai's AVN 5.0 navigation system.
Engine and Powertrain
The 2019 Hyundai Santa Fe comes with three powertrain options. You can opt for the 2.4L inline 4-cylinder engine giving 185 HP, a turbocharged 4-cylinder engine offering 232 HP and introduced for 2019, an all-new 2.2L turbo diesel engine that produces 200 HP power and 320 lb-feet of torque. The engines are paired with an eight-speed automatic transmission system for best performance. Although the official numbers for fuel economy are not yet revealed, it is estimated that the new 2019 Santa Fe will offer a combined 24 MPG.
Safety Features
Hyundai is offering its Smart Sense safety technology as a standard feature on the 2019 Santa Fe SE and all higher trim levels. In this package, you will find safety features such as forward collision avoidance assistance, safe exit assist, blind spot monitoring, lane keeping assist, adaptive cruise control, automatic high beams, rear view camera with parking guidance, rear collision avoidance assistance, and driver attention warning system.
Handling
In the 2019 Santa Fe, Hyundai has improved every aspect of stability, handling, and ride comfort. The company repositioned the rear shocks to ensure more control and poise when driving. Also, there will be a self-leveling suspension that can be used to maintain consistent riding height when towing the vehicle. The SUV comes with standard front-wheel drive and optional all-wheel drive in some models.
These are some interesting features and updates that you can expect in the 2019 Hyundai Santa Fe.